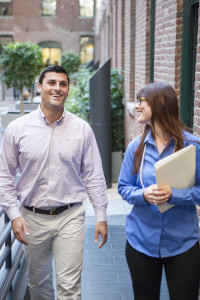 Nothing exists in isolation.  The first time I heard someone say that, it struck me.  A lot of times we think we are the only one with a specific goal and if we just "do more things" we can reach it.  For example, someone I know was looking for a new position and wanted to make a career change.  They thought if they just did more things like signing up on more job sites, sending out more resumes, and researching more jobs that they would be more successful.  Unfortunately, circumstances didn't work out that way.  With so much happening online and fierce competition in the job market, even high-caliber candidates are overlooked. 
So who is being hired for coveted jobs, landing key accounts, and getting more clients?  Research shows that it's usually people with the most personal contact to decision makers.  This used to really frustrate me.  How could a company not choose the most qualified person for the job?  Why wouldn't a company buy the product or service that gives them the most benefits and value?  But it's simple. They don't know you.  Most people and companies aren't doing detailed searches for the very best option.  They will choose the safest, most familiar option any day. 
One of the best ways to position your self for success is to get out and meet more people.  This isn't easy for me to say.  I'm an introvert and I enjoy being in smaller groups (while craving alone time).  But if you're serious about your goals you won't let fear or discomfort hold you back.  Networking doesn't feel natural to me, despite being a serious networker for the last few years.  I've worked at it a lot and will share 10 powerful networking tips to further your career.
1. Have a goal- There's no point in wasting your time and money going to networking events without a purpose.  Are you looking to meet new business contacts?  Are you trying to find a new job?  Knowing your goal before you start anything puts you in place to actually achieve it.
2. Know who you want to meet- Who specifically can help you reach your goal?  A lot of people are just out to meet any and everybody.  While that's great in a purely social sense, it's better to have clarity in business networking.  Are you looking for people in management at a company?  Do you want to meet people who are your ideal clients? 
3. Find the right events-  Let's expand on your goal for networking.  Where do the people you want to meet hang out?  Are they at happy hours or breakfast events?  One of the fastest ways to get discouraged is attending the wrong types of events.
4. Practice what to say- Once you get there, what are you going to say? Come up with a short statement about what you do and rehearse it.  I'm a big fan of saying something short about your self or business and engaging the other person in conversation.
5. Eat before you go- You want to have lots of energy at networking events (especially if you're an introvert), because they can be overwhelming.  Your focus should be on meeting new people, not the appetizers.  It also makes it easier to avoid accidents that ruin outfits or embarrassing moments with food in your teeth. 
6. Go with a friend- It can be very scary attending an event alone.  Having a friend or colleague with you for support can be helpful, so you won't feel awkward standing around alone.  I recommend that you have a signal planned out with your friend, so they know when you want to have a one on one conversation with someone else.
7. Start the conversation- You're a brave soul to even be attending a networking event, but reaching goals requires boldness.  Start conversations with those who you make eye contact with or want to meet.  If they're at a networking event, they came to meet people too!  Initiating conversation is a priority, if you're alone at the event.
8. Be positive- You're making a first impression on everyone that you meet.  It's important that you leave people with a positive one.  Even if it's dark, loud, and hot if that's all you talk about, that's all people will remember about you.
9. Work the room-  As part of your goal, come up with a number of people to meet before you leave the event.  When I started out it was three.  I needed to have three, quality conversations with new people before I left an event.  Now, I like to shoot for ten.
10. Follow through on follow up- Let's bring it back full-circle to number 1.  You came to the networking event with a goal, which usually can't be accomplished by meeting someone once.  You need to contact them again and start to build a relationship.  You can invite them out for coffee, go to lunch, or have a phone call.
Networking can't be avoided in the business world.  Who you know can be more important than what you know (it's sad but true).  A lot of times we focus so much on improving ourselves, or our business to be the best it can but still not get the opportunities to take it to the next level.  Which of these networking tips can you use to see results in your life?     
The following two tabs change content below.
Porschia Parker-Griffin
Porschia Parker-Griffin is a Certified Professional Coach, Business Consultant, and Founder of Fly High Coaching. When she is not coaching, Porschia enjoys traveling, cooking, and working with animals.
Latest posts by Porschia Parker-Griffin (see all)